INTRODUCTION
I am always on the lookout for tools that will help me grow my affiliate marketing faster, whether that be through tools, tips, or training.
Today I want to provide you a review of Commission Black Ops training package, that has more than just the training if you decide to take advantage of the upsells that are offered with this.
I purchased the Front End offer only and the small $9.95 cost was worth it once I got inside, so once again, I decided to ask to promote a tool that works and was approved as an affiliate.
Let me tell you why this program is worth the money and then you can judge for yourself. If you think it is worth the money, you can get it right from here and also receive my bonuses, which are laid out for you below…


PRODUCT
NAME OF PRODUCT:        Commission Black Ops
DEVELOPER:                                Michael Cheney
COST OF PRODUCT:              $9.95 USD FE;
                                                         $97.00 USD OTO 1;
                                                         $47.00 USD OTO 2
MY RATING:                                9/10
SUMMARY OF RATING:     
WHAT IS COMMISSION BLACK  OPS
The developer of this product has been iin the affiliate marketing business since 2000. He is no newbie, and has had many successes over the ensuing years, culminating in this offering.
So what is tthis tool exactly? This is a membership site that has a variety of tools and information depending on the level of access that you sign up for.
Using these tools you can grow your affiliate marketing program quickly, and also make money selling some of the done-for-you sales funnels if you bought the upsells.
The front end access to the membership site costs a very reasonable $9.95, and for that price to start with you will get access to an eBook that contains a ton of useful tips on how to super-charge your sales and leads.
Also with that level access to the site, there is a set of videos and audio files that provide training in other media formats. Overall the cost for this front end is NOT a lot when considering that the training is top level advice that Michael has charged $5000 a head for in the past.
Once you are into the membership site, you will see that everything is laid our very professionally.  Whatever you level of access, it will be very easy to get to your information.
At the basic level as mentioned you get an eBook. Michael calls it a Field manual (reminds me of my old military days!) – this document is chock full of ideas, advice, tips and resources for your use. This alone is worth every bit of the FE cost.
In reviewing the contents of the FM, there was some things I knew already, bit there was a lot more that I did not know. These are things that only someone in the business for a LONG time, as Michael has been, would know.
The second information packet that you get with the basic front end are training videos…
There are a total of 5 modules in this portion of the training. They include starting from the basics and then delve into email marketing techniques.
They also follow the FM eBook that is included, so depending on whether you are more visually inclined or you like to read content the training has you covered.
The modules have titles that are in line with the theme of the training, so it will take some concentration to remember what was found where as you go through the training.
It would be smart to go through each of the modules even if it appears that the first two are starting right at the
It would be smart to go through each of the modules even if it appears that the first two are starting right at the basic level. There are tidbits in them that can help you.  Because this training is intended for the complete newbie, such basic information needs to be in the training.
After the two initial modules, the remaining three are focused on email marketing. Even for the more experienced marketer, there are yet more ideas, tips, and suggestions that can help your program.
Remember that Michael is a marketer that has a LOT of experience, so in this training, you are getting the benefit of that in what he is teaching.
There is also audio files included if you need to listen to the information on the go, i.e. anywhere you may be, as long as you have an audio playing device that can handle MP3 files.
The advice in all three formats was provided in a very easy to follow format and I could see how I could implement the strategies presented in my own program.
Actually, I have started already and I will let you know in the comments as we go along how it is working out for my program…

CAN IT BE USEFUL FOR YOUR PROGRAM
So do I feel it was worth my $9.95? In a word, yes…Can it help your program? In a word, yes!
I'd recommend this membership site to anyone who is considering entering into online affiliate marketing either as a complete newbie or someone having mid-level experience with affiliate marketing.
PROS AND CONS OF COMMISSION BLACK OPS
For the price, there are no cons with this membership site. It offers a real value to you for no more than the cost of a cheap meal at a fast-food joint!
The OTO 1 is also not that expensive when you consider that you are getting 7 programs that are currently being sold successfully on JVZoo and all the sales funnel materials to get started immediately are included in the package, such as squeeze pages, sales banners, email swipes, etc.
The OTO 2 is also not a bad offer, there you will get more lead magnets to get you started using the tips and tools found in the front end offer.
Personally I just took the front end offer, because I have a number of my own products that I can sell, complete with pages, email swipes, etc. so I felt there was no need to get the upsells, even if they offer a good value for the money.


ARE THERE UPSELLS
Yes there are. As mentioned above there are two as follows:
OTO 1 – Done For You (DFY) Service
OTO 2 – Commission Black Ops ELITE
MY FINAL VERDICT:
BONUSES
If you decide that this set of tools is something that interests you, I want to add something special to make it even more valuable for you. First of all here are the bonuses you will get from Michael:

Plus you are going to get from my bonus vault the following:
BONUS 1
BONUS 2
BONUS 3
BONUS 4
ACCESS THIS TOOL THROUGH MY LINK
You can access the sales page directly from here by clicking on the banner below, and when you have completed your purchase, send me a copy iof the receipt reflecting that you bought the membership through my link.
I will immediately send you access to the bonuses above. My email is davesweney1956@gmail.com. Please use the subject line: Bonus Claim for Commission Black Ops Purchase…
Order this affiliate marketing course here: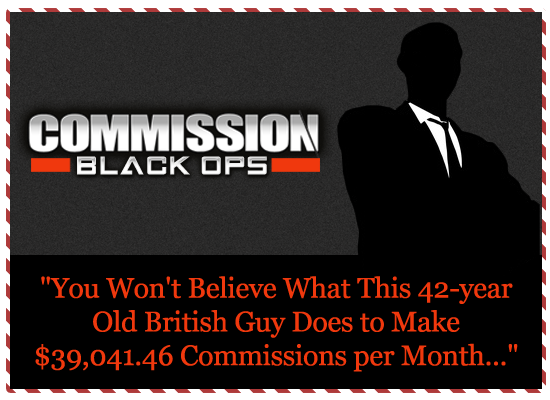 ONE FINAL POINT
I always ask for feedback from my site visitors for each article, training, or review post I make on this site. The reason is that I want to encourage others to share their experience, their thoughts, ideas and suggestions. This helps us all to learn from one another and it provides a richer experience for everyone…Thanks in advance!
Cheers!